About TomeNET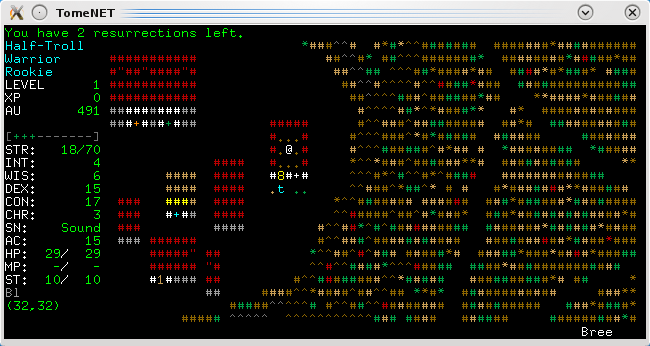 TomeNET is an online multiplayer rogue-like role-playing game, derived from MAngband (Multiplayer-Angband). TomeNET loosely bases on the stories of J.R.R. Tolkien mainly "The Lord Of The Rings", hence the name "the Troubles of Middle Earth" or alternatively "the Tales of Middle Earth". The final goal in TomeNET is to destroy the fallen god Melkor who is known by the name of Morgoth, Lord of Darkness.
Sometimes TomeNET is confused with ToME. ToME is a singleplayer game that is vaguely similar to TomeNET but both games have their own developers. ToME and TomeNET were both originally created by DarkGod but parted ways around 2003. DarkGod still continues to develop ToME. The latest version of ToME is ToME 4.
History and list of features
Read about those at our
Roguebasin
site.
Developers
C. Blue (e-mail: c_blue@

dummy

gmx.net)
mikaelh (e-mail: mikael.hirki+tomenet@

dummy

gmail.com)
the_sandman (e-mail: adam.irawan+tomenet@

dummy

gmail.com)
Moltor (arcade server)
Relsiet (runecraft)
Kurzel (runecraft, arcade server, e-mail: kurzel.tomenet@

dummy

gmail.com)